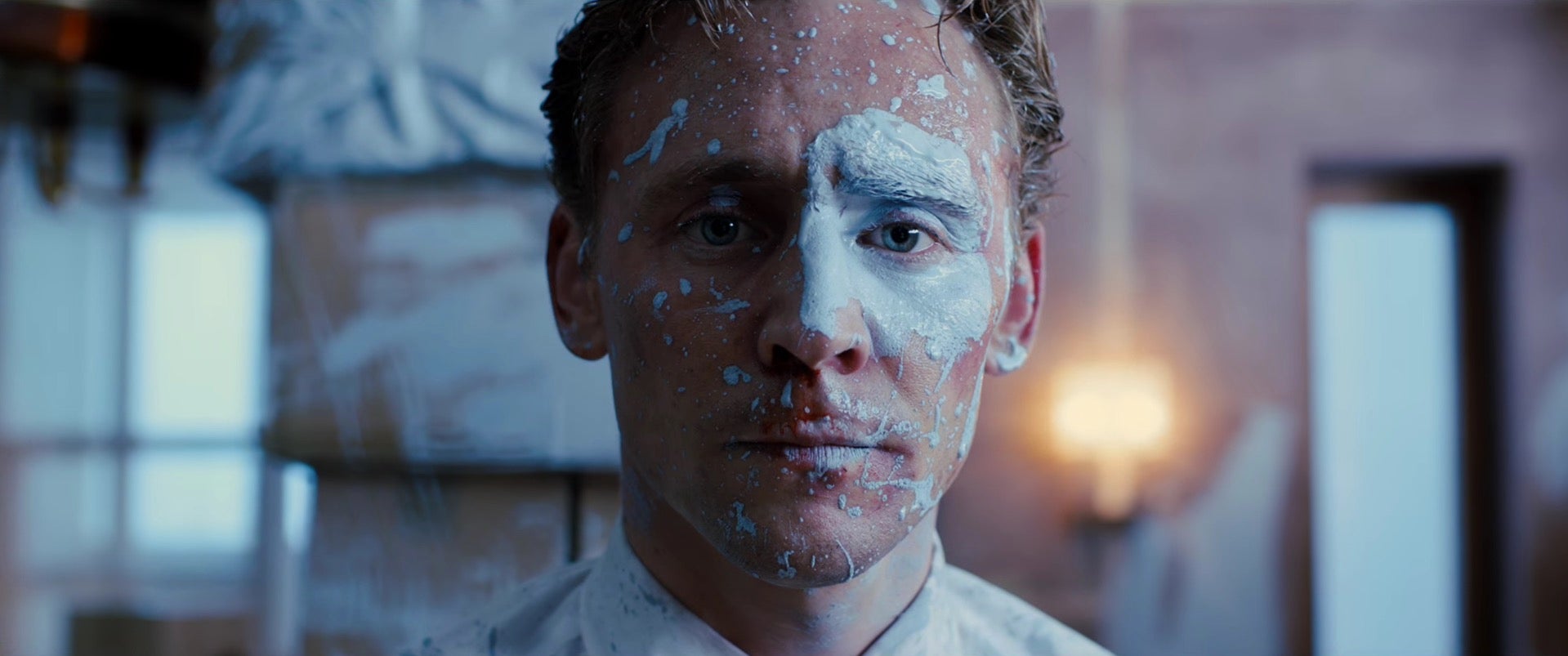 Class warfare reigns in the 1970s styled London high-rise where Doctor Laing (Tom Hiddleston) lives. High-Rise (2015), based on the novel of the same title by famed science fiction author JG Ballard, portrays a surreal, dystopian vision of mayhem and violence compartmentalized into the space of one building.
Through Laing, we observe the building's occupants: the rich, the just-barely-getting-by poor, the middle class, and the upper middle class like Laing himself. The film highlights the facts that these demographics are both socially cut-off from one another in certain ways but also intermingle. The richer classes, of course, take the higher floors, etc. and the architect, the building's mastermind, lives on the top floor where his wife rides a horse on the high-rise's garden roof.
The building's divisional arrangement of people is so commonplace nowadays that I don't really see its portrayal as metaphorical or allegorical, although it was perhaps intended that way. However, if there is a true allegory here, it's that the high-rise and its divisions and the fallout from the building's descent into chaos are representative of civilization's collapse. And the culprit, in this case, is class division: the rich vying to keep the poor in their place and the underprivileged rebelling against both real and assumed injustices.
The film has a rich cinematographic quality, and its violent surrealism reminded me of Mary Harron's American Psycho (2000) and Terry Gilliam's Brazil (1985). The visual richness and beauty held my interest through most of the film and allowed me to finish it even though there wasn't much here in the way of plot or deep characterization. If there's one reason to watch this, it's for the surreal and beatific cinematography.
High-Rise stars Tom Hiddleston, Jeremy Irons, Sienna Miller, Luke Evans, and Elisabeth Moss and is directed by Ben Wheatley. Director of photography is Laurie Rose. Based on the novel by JG Ballard.
ReviewBits: a bite-sized cinema, book, or television review. Write one and submit.
The following two tabs change content below.
M. J. is an award-winning short fiction writer and author of a forthcoming nonfiction book. He loves science fiction, humor, & literary fiction and is the director of Write Draft Critique: the Virtual Writer Workshop.
Latest posts by M. J. Kelley (see all)